The 5 Most Effective Home Winterization Tips
We are experiencing one of the lowest temperatures on record according to some experts. Mixed in with some unseasonable spring weather in January. But then again it seems to get colder each year, making it imperative that our homes are always properly winterized. That said, there are a couple of things you can do to keep your home warm and energy efficient during the winter. The below winterization tips should help keep your home warm and frustration free through the winter.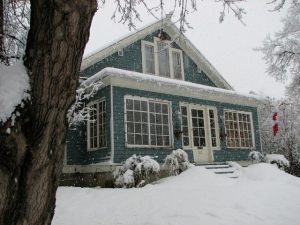 Prevent busted and leaked pipes with insulation
One of the most common complaints from homeowners is that their pipes start to leak every winter. Some even report ruptures in the pipes which can cost a lot to get repaired. The easiest way to prevent all of this from happening is to invest in high-quality pipe insulation. At around $2 per 6 feet of foam insulation, you're not just preventing your pipes from suddenly rupturing but also lowering your heating bill. Ideally, you'll want to tackle the insulation process yourself which is pretty simple. It will also help you save quite a bit as compared to hiring a contractor or handyman for the job.
Run fans in reverse
Even though turning on the fans is something you do in summer but have you considered running it in reverse during winter? If you have a ceiling fan which runs counterclockwise running it in reverse or clockwise will make your rooms warmer. The reason being that hot air usually rises to the ceiling leaving you feeling cold below. When the you run the fans in reverse it circulates the hot air down. This alone can reduce your heating costs by 10%.
Seal all the ducts
According to recent studies, as much as 30% percent of hot air escapes from the ducts. The best thing to do is hire a professional to inspect the ductwork for leaks and then fix those problems right away. Sealing the ducts properly can help an average home save up to $150 each year according to a study by the American Solar Energy Society. The other benefit of properly sealed ducts is that your home is protected against dust and mold.
Bubble wrap the windows
Do you suspect draft is coming in from the windows despite them being closed? There are numerous reasons for this happening which include the windows being too old, cracked or don't close as tightly as they should. According to the US Department of Energy, you can save up to 30% on your energy bill every year by just taping bubble wrap across the windows. Bubble wrap will allow light through but not the draft. Also, the bubble wrap can be easily removed and stored away come May!
Add more insulation to your home
Insulating your home is one of the best and most efficient winterization tools when it comes to saving energy and obviously, money. Adding more insulation between the walls, attic floor, and basement ceiling can make a world of a difference. Another incentive to add more insulation is the fact that the federal government will reimburse 10% of your costs for up to $500.
Low-income homes can easily qualify for around $7000 worth of winterization improvements. You can find out more about this by contacting the local energy agency.
Get homeowner's insurance to prevent sudden out of pocket expenses
Home owner's insurance helps keep you covered in the event you require something to be repaired or replaced. Things like busted pipes, weather damage, etc. are all covered by a comprehensive homeowner's insurance. You can find out more about home owner's insurance policies and how they cover your losses by clicking here.