Prevent frozen pipes!
What is the number one home-related, extreme-cold weather winter claim? Water damage from burst pipes. They are terrible, messy, heart-breaking claims and we want to help protect you against having one.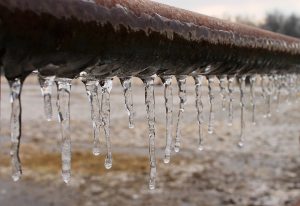 Prevent frozen pipes!
First, a quick explanation. Why do pipes burst? When water freezes it expands and ANY container holding frozen water will eventually burst. And, well, sometimes the container is your pipe.
Which of your pipes are most at risk?
Pipes inside the home in areas that aren't heated, such as those in the basement, crawl spaces, garage, cabinets, and attic
Pipes that run against exterior walls that have little or no insulation
Pipes that are exposed to severe cold, like outdoor hose bibs, swimming pool supply lines, and water sprinkler lines
Exterior lines like piping to your pool or sprinkler system
What can you do to prevent/protect against frozen pipes?
Locate pipes that have the potential to freeze. Add insulation where you can. There are many insulation "helpers"; talk with any home improvement retail store consultant for ideas like pipe sleeves, UL-listed "heat tape," and "heat cable."
Open kitchen and bathroom cabinet doors to allow warmer air to circulate around the plumbing. (Be sure to move any harmful cleaners and household chemicals out of the reach of children!)
When it gets cold out, maintain your heat at a temperature of at least 55F degrees. This is very important but people seem to take the gamble. ("I'm not home. Why waste the money?") If you're a snowbird, going on an extended vacation, or moving out of an apartment but still have a lease, you need to maintain your heat.Keep the thermostat set to the same temperature both during the day and at night.
When the weather is very cold outside, let the cold-water drip from the faucet served by at-risk pipes. Running water through the pipe – even at a trickle – helps prevent pipes from freezing.
Keep garage doors closed if there are water supply lines in the garage.
Drain outdoor pipes.
What should you do if a pipe does burst?
It is the policyholder's duty to prevent further damage, so this means that you need to act as quickly as possible.
Immediately shut off water service to the building.
Move any affected belongings to a dry area or at least above the water.
Begin the cleanup process quickly, including drying out the area; you want to prevent mold.
Call your insurance agent who can help you determine if it makes sense to submit a claim.
Take photos along the way that you can share with the claims adjuster if necessary.
NOTE:If your insurance company does cover the claim, the damage caused – to carpets, walls, furniture, cleanup — will be covered, but not the burst pipe itself.
Water damage from a burst pipe can be denied by the insurance company if the policyholder is negligent.
A denial can happen if the policyholder is negligent, like choosing to shut the heat and power off.
A denial can happen if the water damage isn't sudden and accidental. An insurance policy is intended to cover sudden and accidental claims – not a leak that has occurred over the course of several weeks or months.
If you have questions about your coverage should pipes burst, call us. We will check your policy with you.