Hosting a Graduation Party? Are You Covered?
— By the EC Cooper staff
We know you are crazed right now preparing for graduation and planning the details of the party. We totally understand. We have kids of our own. But! It is our job to metaphorically tap you on your shoulder and ask, "Have you taken steps to protect yourself?"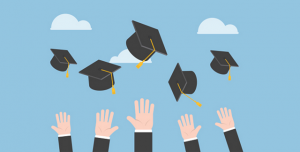 Graduation parties are bursting with over-exuberance and excitement. But, as hosts, you need to be vigilant that the combination of parental excitement, underage guests and available alcohol does not lead to tragedy.
According to the Insurance Institute for Highway Safety (IIHS), the months from April through July see some of the highest teenage traffic fatalities of the entire year.
If you – as a really good, conscientious host – want to make your party safer, consider implementing these tips.
1. Consider hosting a dry party.
The surest way to prevent underage guests from getting their hands on alcohol at your party is to not have alcohol at your party.
2. Hire a professional.
If you do not want a dry party, consider hiring a professional catering company with a liquor license, liquor liability and general liability. We also recommend that the caterer name you as an additional insured on their policy.
3. Collect car keys.
What a deterrent! "Hey, Folks! You aren't leaving without checking with me!" Brilliant. But keep in mind that collecting keys is not a fail-safe method for preventing liquor liability issues.
4. Review your home insurance coverage with your agent.
There is such a thing called Host Liquor Liability that means that you – the host — can be held responsible for car accidents or injuries to third parties even after an intoxicated guest leaves your home. Your exposure there can be insurable under your homeowners policy – a standard general liability policy. But! Some home insurance carriers exclude Host Liquor Liability claims. And, even if you are covered, most home policy limits are low compared to the costs of defending a civil lawsuit. Meaning, your insurance simply may not cover the amount for which you are going to be responsible if someone is seriously injured or dies. Please check with us to see what coverage you have and what solutions will properly protect you.
Keep in mind that your insurance coverage will not protect you if you allow underage guests to drink on your property. That's true even if you don't personally serve them or purchase the alcohol for them.
5. Consider Special Event Insurance.
Special Event Insurance can be purchased to secure host liquor liability coverage and other party protection. (It's not all about the alcohol! If your party gets rained out, Special Event Insurance can help you recoup the costs!) Special Event Insurance can supplement your homeowners insurance with millions of dollars in added protection. How much is it? You can usually find Special Event Insurance for a surprisingly affordable rate.
The bottom line? Please call us before you host a graduation party. Let's work together to make sure you are properly protected.