Whether it is a gift for graduation, birthday surprise, or time for your teen's first car, getting the safest vehicle is a priority for many without spending a fortune.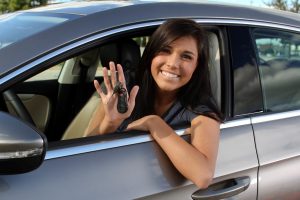 The Insurance Institute for Highway Safety (IIHS) was founded in 1959 with a mission to support safety efforts produced by others but years later became the forefront of highway safety research. Each year IIHS publishes a list of the safest cars for teen drivers.
With safety as their number one priority, IIHS has added even more criteria to their used car ratings guides in order to generate a list of vehicles best for teens. Among these changes, they now require better side and head restraint scores as well as factoring in the scores from small overlap front-end crash protection. The article provided by IIHS even offers some recommendations on basic principles that increase the overall safety for your teen driver.
In the most recent report, IIHS has added new budget based suggestions for the frugal shopper. The "best choices" listings start at $20,000 and under while the "good choices" listings begin under $10,000. Between these two list there are more than 100+ great options for your teen driver.
If you or your teen is looking to get a vehicle, you definitely need to review this list first.