Does Your Small Business Need Cyber Insurance? YES!! Seriously!
Business owners do what they need to do to protect their businesses. Most businesses invest in physical security and general liability insurance, but cyber security is usually limited to a firewall and some antivirus software. It's not enough!! This gaping hole in protection leaves many small businesses exposed to the high cost of cyber attacks … which are increasing in frequency.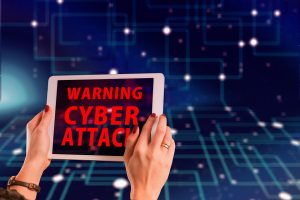 According to SmallBizTrends, more than half of all small businesses experience a cyber attack or data breach in a given year. On average, these businesses experience about $880,000 indirect losses due to the damage or theft of IT assets, and another $955,000 in losses from disruption to normal operations.
One cyber attack can shut down your entire network within minutes, paralyzing your operations. One data breach can catastrophically impact the privacy of all of your customers, clients and employees.
Any business that retains physical or electronic records of employees, customers, or other third parties is vulnerable and can be a victim of a cyber event. And! It would likely only take one cyber event or data security breach to cripple your company or even put you out of business.
Are we scaring you? We mean to. This is a real threat.
Do you have a budget in place to prevent cyber attacks and to mitigate your damages should one occur?
Are you regularly upgrading software, monitoring credit reports and encrypting data?
And …
Do you have cyber insurance?
Without cyber insurance, you may be responsible for the astronomical costs arising from a cyber attack — lost business, regulatory investigations, customer communication costs, data asset losses and any court fees and settlements from legal action.
Cyber insurance policies vary from company to company, but you can expect that the policies will generally cover the costs associated with payment of fines and penalties, credit monitoring, forensic investigations, theft of funds, business interruption, extortion, public relations work,  restoring private data, lawsuits, and much, much more.
Are you wondering if your general liability policy will cover you in the case of a cyber attack? It will not. General liability policies usually specify that they only cover damage to a third party's tangible property, which doesn't include electronic data. If there is a provision for "digital data protection," it typically only covers the loss of data from physical damage (e.g. damaged servers).
So what do you do? Come talk to us. Many of our carriers offer cyber insurance. We can determine what insurance will best suit your business. We are experts. Let us advise and protect you.