Brides: It's Not Romantic, But It's Important – Wedding Insurance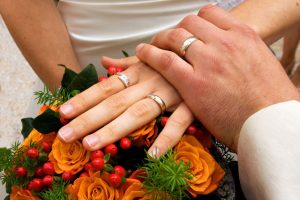 What do brides think about before their weddings? Color schemes, vows, flowers, unicorns, rainbows and puppies. It is all so beautiful!
What do brides NOT think about before their wedding? Hurricanes, deaths of family members and the venue burning down two days before the reception.
We HOPE your wedding goes off without a hitch! But alas! Disaster can strike. Just ask your wedding planner. She could tell you some stories!  How can YOU protect your special day? Wedding insurance. Yes, we said it, as unromantic as it is. Wedding insurance.
You could be spending $30,000 on your wedding. Would you buy a $30,000 car without insurance? We want you to protect your investment.
Most wedding insurance policies are split into two groups: liability and cancellation or postponement.
Liability insurance covers damages to the venue and injury or illness that occurs at the wedding.
Cancellation or postponement insurance covers the costs if the wedding is canceled or postponed due to extreme weather, illness or injury of a key member of the wedding, or other forces beyond your control. (Cancellation due to rain, cancellation due to a change of heart (Yeeks!), switching vendors after a deposit was paid, and loss of your engagement ring are typically not covered by either of the two wedding insurance types.)
But do you NEED wedding insurance? Well, no. It is not required. But much like travel insurance, wedding insurance can give you peace of mind. What is THAT worth?
Also, remember to ask your vendors what their insurance covers. They likely have insurance, so you do not need to buy overlapping coverage. Read your vendors' insurance policies and ask your vendors exactly for what you could be responsible.
How much will it cost? The size of your wedding, what you need covered, the location of your wedding, the policy limits and some of your special touches will all affect the cost of your wedding insurance policy. Some policies start around $75 and go up from there, and the average cost is around $200-$250. But, every wedding is, of course, unique so the only way to know for sure is to get a quote.
Please allow us to help you. We will find insurance that is tailored to your special circumstances. If you have a llama walking your mother down the aisle? We can look to see if that can be covered. (No promises!)
Oh, and congratulations! Happy wedding planning!