Winter is finally over, and the weather is beginning to warm up, which means summer is right around the corner. And we have 5 tips for you to have a fun, safe, and happy summer. Now our idea of safe and happy is to make sure you are protected and worry free. Just a few minutes of review can save your summer from the unfortunate.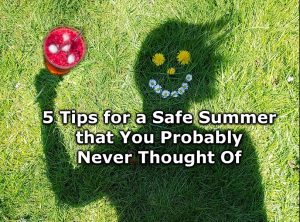 Trampoline and Pool Liability: If your summer fun includes jumping into the pool or jumping on a trampoline then this needs to be on your checklist. Whatever your choice may be, there are risks of injury with both. This time of year is perfect for reviewing your coverage for your protection in the unfortunate case of an accident.
Wooden Decks and Playsets: All wooden structures should be inspected before the kick off of summer. You need to inspect your structures for termites, rotting, cracking, and other unsafe damage. Check for nails or screws that raised up and boards that might have warped. Providing a yearly coat of sealant can help prevent some of these common issues. (This is also part of our Spring Cleaning Checklist.)
Hot Car Safety: As the weather begins to rise outside, it is also rising inside your car. Even on cool days, the sun can raise the car's interior temperature to unsafe levels and cause serious injury or death in some cases.  It is always best to double check and leave no one unattended. This includes your pets.
Flood Coverage: With spring showers here and the snow all melted, flood season is here as well. This is a great time to review your coverage in the event of a flood. This is not just for your home, but also for your business. So review your policy to keep your business safe and open this rainy season.
Classic Car Coverage: Ah, riding the road with the top down and enjoying the sun. After a long winter indoors and covered up, it is not only important to review your classic car for general maintenance, now is a good time to review its insurance coverage. This coverage is not your typical everyday car coverage and should be reviewed annually to make sure your classic car is road ready and insured.
We may be an insurance company, but this is truly important. It's recommended that you review your insurance policies once a year. Look for any changes in your coverage. This is not limited to you making any major purchases or alterations to your home or business. A lot can change in a year. Verify that you are properly covered for peace of mind.
From all of us here at E.C. Cooper, please have a safe and fun summer.